Take Photos of
SMALL WORLDS
>
>
Take Photos of SMALL WORLDS
There are many photo spots in SMALL WORLDS TOKYO
where you can take nice photos!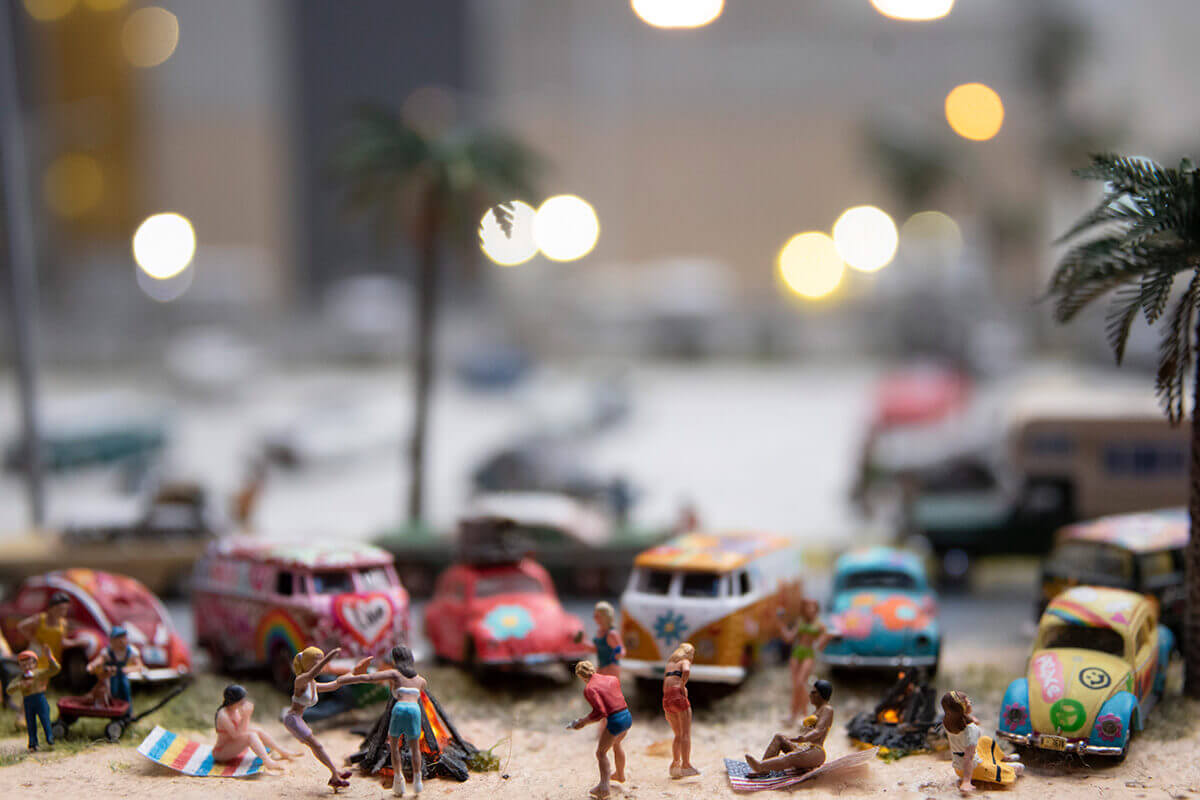 Find your own photo spot in a small world
located inside SMALL WORLDS!
We will introduce some tips for taking photos and recommend photo spots!
Be sure to check them out before you pay us a visit!
Photo Shoot Tips
Point1
The scenery changes by day and night!
Point2
Take photos of your favorite characters!
Point3
You can also take videos of moving miniatures!
Point4
There are also some unexpected celebrities?!
Point5
Take a photo of your 1:80 scale figure!
Point6
There are also recommended photo spots!
Take wonderful photos and videos and then share them on your social media!
#スモワル
Follow SMALL WORLDS's official social media accounts and like the posts!
<Request to visitors>
You can take photos and videos in the park but please avoid getting other visitors in them.
Moreover, please add mosaics to your photos or videos before uploading them to social media so that individuals cannot be identified.
Please be considerate of others when taking photos at photo spots.
Photography Terms & Conditions
Try to actually take photos!
Good photo spots and points for taking selfies
We will show you how to take good photos at the photo spots.
How to take photos of 1:35 scale figures
If you want to take beautiful and interesting photos of miniatures with your smartphone or SLR camera, be sure to watch the video!
自分のミニチュアフィギュアをつくって撮る
Create a miniature of yourself
and take photos
You can do a 3D scanning using our state-of-the-art 3D scanner and create a miniature of yourself in 1:80 and 1:35 scales.
Find out more
Photo Contest
In SMALL WORLDS TOKYO, we will regularly hold photo contests and collect the cute photos taken by you.
While having fun with the contest theme that will change on a regular basis, take pictures of your memorable moments in SMALL WORLDS and submit it to the contest.
【The 2nd SMALL WORLDS Photo Contest】
SMALL WORLDS×TOKYO HEADLINE
Capture a small winter story in the photo and enter the contest!
Contest Theme
"Winter stories found in SMALL WORLDS"
Add the hashtag #スモールワールズフォトコン and post your photo!
Photography Club
Enjoy the fun of "taking photos" with your friends in the small world.
We are now planning the club activities in which you can use professional equipment to "take photos", "learn" and "have fun" in SMALL WORLDS.
Enjoy the fun of "taking photos" in the small world with your fellow photographers. You can use the lovely club room inside SMALL WORLDS!
Membership Requirements
You can become a member if you meet at least one of the following criteria.
・Winners of SMALL WORLDS Photo Contest
・Those invited because the club members rated their level of skills as "winner level"
Introduction of the Photography Club Head
Hazuki Muto
In 2019, she graduated from the Department of Imaging Arts and Sciences of Musashino Art University College of Art and Design.
From her university days she has been working as a freelance photographer. Her main focus is portraits, but she also works with a wide range of photos such as product photos and photos of completed buildings.