EVANGELION: TOKYO-III
Tokyo-III is located right above the NERV headquarters.
Soon you'll hear sirens from every corner and see cars evacuate.
That's when the city begins to transform itself…
As the Angels' attack begins, the city gets buried underground, and there emerges a future world of newest disaster countermeasures.
In the old city, you can meet Shinji and other pilots savoring fleeting moments of ordinary life.
Welcome to the world of Rebuild of Evangelion.
POINTS of "EVANGELION: TOKYO-III" Area
Misato's Condominium

In the Misato Katsuragi's condominium, you can see Misato and Pen Pen.

Rei Ayanami's Apartment Complex

You can check out Rei Ayanami's room.

EVA-YA

EVA-YA is located near New Gora Station. You can see the adorable familiar characters nearby.

Movable Lift Footbridge

The footbridge Shinji and other pilots cross on their way to school.

Tokyo-III First Municipal Junior High School

The school Shinji Ikari and Rei Ayanami go to.

Mount Ashigara

Don't miss the sight of Tokyo-III going up and down which can be observed from Mount Ashigara. You can see the famous scene here as well.
LIVE in "EVANGELION:TOKYO-III" Area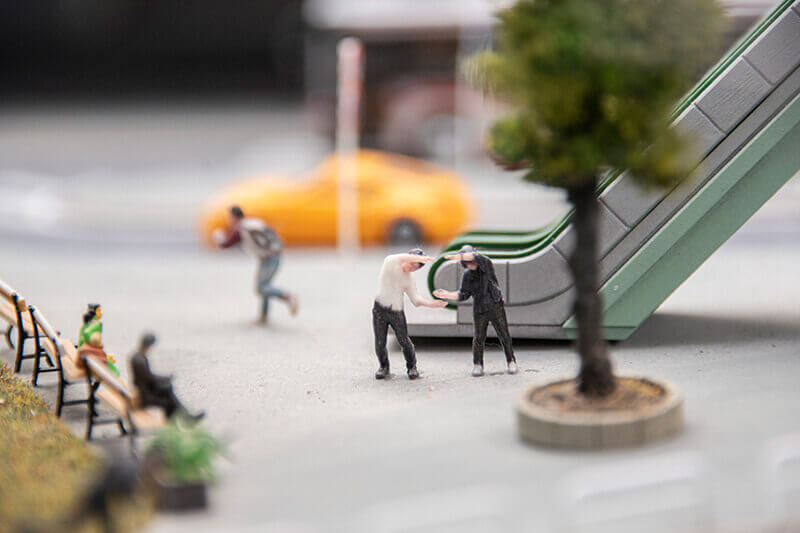 Figure Program with Resident Right
Tokyo-III of SMALL WORLDS TOKYO thoroughly reproduces Tokyo-III and the old town.
Enter the world of this work by setting your miniature in the shrine or on the footbridge!